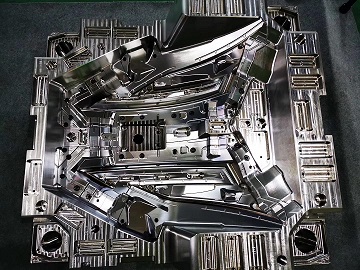 In the dynamic realm of product development, innovation is the driving force that propels industries forward. Plastic prototype companies and advanced manufacturing techniques like two-shot injection molding, also known as 2K molding, have emerged as game-changers. These technologies have streamlined the development process and paved the way for more efficient and cost-effective manufacturing methods.
The Rise of Plastic Prototype Companies:
In the past, developing a new product involved a lengthy and often expensive process—traditional methods required creating molds and producing prototypes, which could consume valuable time and resources. However, the advent of plastic prototype companies has revolutionized this process, enabling businesses to bring their concepts to life rapidly and cost-effectively.
Plastic prototype companies specialize in creating functional prototypes using various materials, most notably plastics. These prototypes represent the final product, allowing designers, engineers, and stakeholders to evaluate the design, functionality, and ergonomics before proceeding to mass production. By utilizing computer-aided design (CAD) software and advanced manufacturing techniques like 3D printing and CNC machining, these companies can produce highly detailed and accurate prototypes in a fraction of the time it would take using traditional methods.
The benefits of plastic prototyping are manifold. It accelerates the product development cycle, facilitates rapid design iterations, reduces the risk of costly errors, and enhances collaboration among cross-functional teams. Furthermore, it enables companies to gather early feedback from potential users, leading to a more refined end product that better aligns with customer expectations. Plastic prototype companies have transformed product development from a linear process into an iterative and collaborative journey.
Two-Shot Injection Molding (2K Molding): A composite component with distinct layers
As innovation continues to reshape the manufacturing landscape, two-shot injection molding, or 2K molding, stands out as a cutting-edge technique that offers unparalleled design flexibility and efficiency. Traditional injection molding involves injecting molten plastic into a single mold cavity to produce a part. In contrast, 2K molding involves injecting two different materials or colors into a single mold to create a composite component with distinct layers.
The process of 2K molding begins with the injection of the first material into the mold to form the initial layer of the product. Subsequently, the mold rotates or moves to a different position, and the second material is injected, bonding seamlessly with the first layer. This technique enables the integration of multiple functionalities, such as combining rigid and flexible materials, incorporating soft-touch grips, or achieving intricate color patterns—all in a single manufacturing cycle.
The advantages of 2K molding are evident across various industries. Firstly, it reduces assembly and production steps, leading to enhanced cost-efficiency. injection mold company can significantly reduce production time and labor costs by eliminating the need for additional assembly processes to combine different materials. Additionally, the ability to create complex and multi-material components in one mold minimizes waste, contributing to a more sustainable manufacturing process.
Injection Mold Company can significantly reduce production time and labor costs.
From a design perspective, 2K molding offers unprecedented creative freedom. Engineers and designers can engineer parts with intricate geometries and varying material properties, unlocking new possibilities in product design. Furthermore, the seamless integration of different materials within a single component enhances product durability, functionality, and aesthetics.
Unlocking Innovation:
The convergence of plastic prototype companies and two shot injection molding has unlocked a new product development and manufacturing innovation era. Businesses across diverse sectors, including automotive, consumer electronics, medical devices, and consumer goods, capitalize on these technologies to stay competitive in today's fast-paced market landscape.
The synergy between plastic prototyping and 2K molding is particularly evident when designing and refining complex products. Creating functional prototypes that mirror the intended multi-material end product allows for comprehensive testing and validation. This reduces the risk of design flaws and ensures that the final product meets the highest quality and performance standards.
In conclusion, the product development and manufacturing landscape is transforming, driven by plastic prototype companies and advanced techniques like 2K molding. These innovations empower businesses to bring their ideas to fruition faster, more efficiently, and with a higher degree of creativity. These technologies are at the forefront of reshaping industries and propelling them into a future of limitless possibilities by shortening development cycles, reducing costs, and enabling the production of complex multi-material components. As companies embrace these advancements, the boundaries of what can be achieved in product design and manufacturing will continue to expand, ushering in a new era of innovation and excellence.
For detailed information about two shot injection molding, click here Stebro Mold to explore the quality of plastic mold company in China.