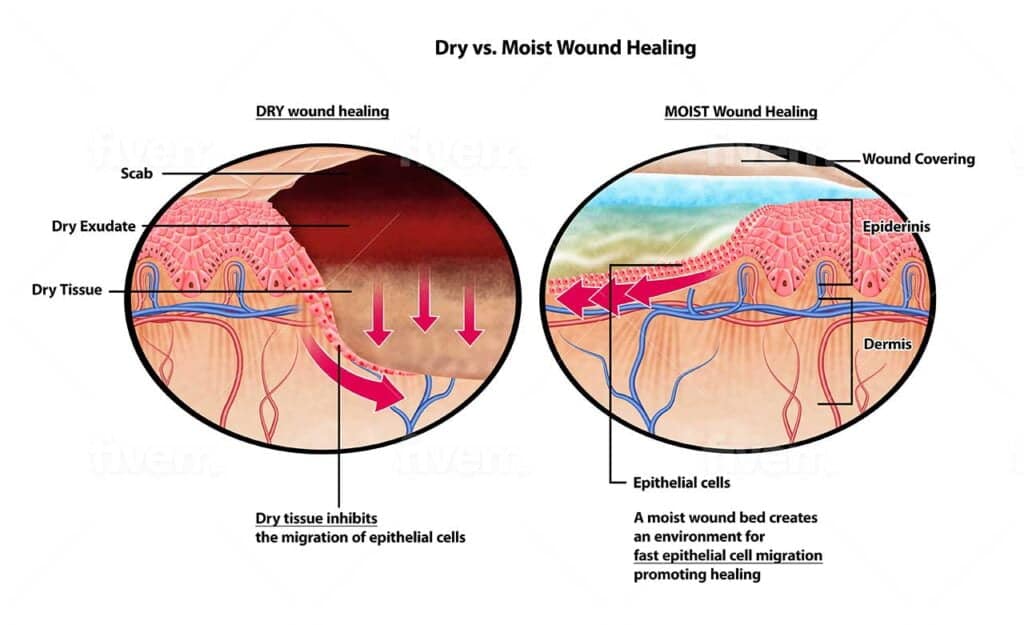 Diabetes, a chronic metabolic disorder characterized by high blood sugar levels, can lead to various complications affecting various body parts. One such complication is the development of diabetic ulcers, particularly in the feet. Diabetic foot ulcers are a serious concern for individuals with diabetes, as they can lead to severe infections and even amputations if left untreated. This article will delve into diabetic ulcers and diabetes-related foot problems and explore preventive measures to ensure optimal foot health.
A diabetic ulcer, or a diabetic sore, is an open wound that develops in individuals with diabetes, most commonly on the feet. These ulcers result from a combination of factors, including poor blood circulation, nerve damage (neuropathy), and compromised immune function, all of which are common complications of diabetes. Neuropathy impairs sensation in the feet, making it difficult for individuals to detect injuries, pressure points, or infections.
Even minor injuries or pressure points can escalate into serious wounds when these factors converge. The reduced blood flow delays the body's natural healing process, and if an infection sets in, it can lead to tissue damage and necrosis, further worsening the situation. Diabetic ulcers can be painful, but due to the reduced sensation caused by neuropathy, some individuals may not even realize they have an ulcer until it becomes a severe issue.
Diabetic Ulcers: Understanding the Basics
The diabetes feet are particularly vulnerable for individuals with diabetes due to the complex interplay of factors contributing to their compromised health. High blood sugar levels can cause damage to blood vessels and nerves over time, leading to poor circulation and neuropathy. Neuropathy reduces the ability to feel pain, heat, or cold, increasing the risk of injury or developing blisters without awareness.
Additionally, diabetes weakens the immune system, making it harder for the body to fight off infections. Once an infection takes hold, it can quickly escalate, leading to tissue death and the formation of ulcers. Moreover, conditions such as corns, calluses, and ingrown toenails can go unnoticed and untreated, increasing the likelihood of developing diabetic ulcers.
Diabetic Foot Ulcers: Prevention and Management
Prevention is crucial in managing diabetic foot ulcer and maintaining foot health. Individuals with diabetes can take several proactive steps to reduce their risk:
Prevention is crucial in managing diabetic foot ulcer and maintaining foot health.
Regular Foot Inspection: Daily foot inspections are essential. Look for redness, swelling, cuts, blisters, or calluses. Catching problems early can prevent them from escalating.
Proper Foot Hygiene: Wash your feet daily with mild soap and lukewarm water, and dry them thoroughly, especially between the toes.
Moisturize: Applying a mild moisturizer to your feet, except between the toes, can prevent dry, cracked skin.
Choose Proper Footwear: Wear shoes that fit well provide adequate support and don't create pressure points. Avoid high heels and shoes with narrow-toe boxes.
Avoid Walking Barefoot: Even at home, wearing slippers or shoes is advisable to prevent injuries.
Blood Sugar Management: Keeping your blood sugar levels within the target range can promote better circulation and reduce the risk of nerve damage.
Regular Exercise: Regular physical activity can improve circulation and overall health. However, consult your healthcare provider before starting any new exercise routine.
Treatment and Medical Intervention
If a diabetic sores do develop, seeking prompt medical attention is crucial to prevent complications. A healthcare provider or wound care specialist can determine the appropriate treatment, which may include:
Conclusion
Diabetic ulcers and foot problems are significant concerns for individuals living with diabetes. The combination of neuropathy, poor circulation, and compromised immune function places the feet at a higher risk of developing severe wounds. However, with proper foot care, regular monitoring, and adherence to medical advice, many diabetic foot ulcers can be prevented. By taking proactive measures to maintain foot health and promptly addressing any issues, individuals with diabetes can reduce the risk of complications and enjoy a higher quality of life. Remember, a small investment in foot care today can lead to a healthier future tomorrow.
For more information about diabetic sores, click here Advanced Oxygen Therapy Inc. for the best treatment for diabetic disease or ulcers.